Team full with luck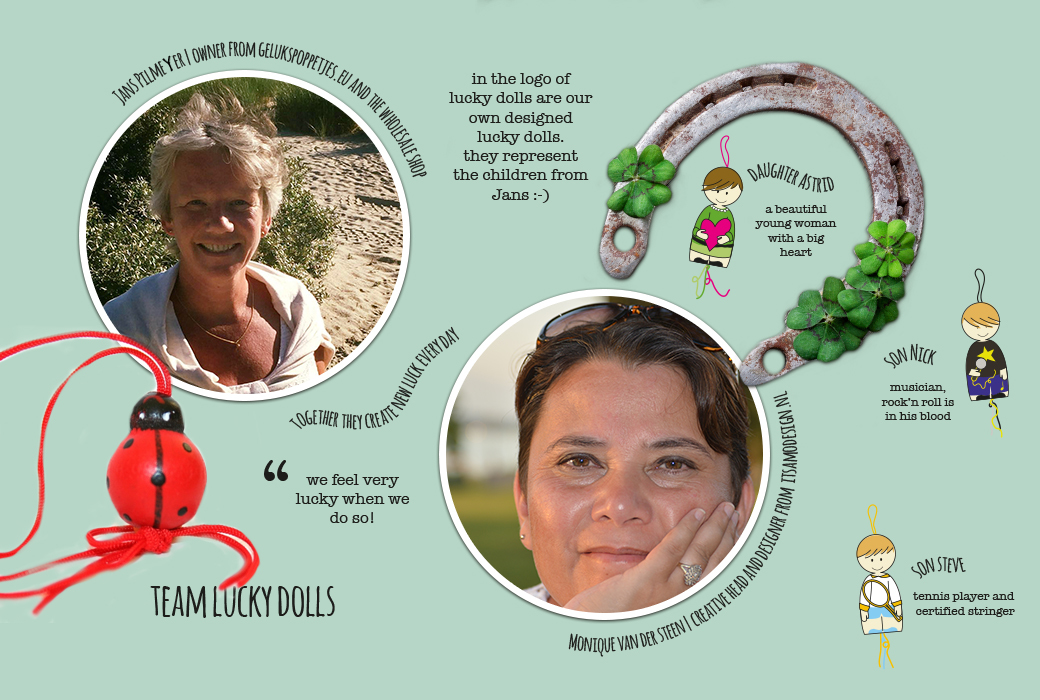 Team full with luck
Every day we go to work with a big smile. Because if you can be busy daily spreading a bit of luck, you will be happy with that. And so we are working every day with a big smile and we think every time fun new things to spread more happiness in the world.
Het team van gelukspoppetjes
Jans is the owner and driving force behind lucky dolls. For a long time Jans sells lucky dolls, originally under her other webshop Artasja.eu, since January 2006. And a few years ago Jans and Mo met each other via twitter. Jans asked Mo: can you process the lucky dolls in other articles that we have made in-house. And from one thing the other came. So far even that unique lucky dolls have been designed and made in-house. Own dolls that of course bring much more luck. And Jans has not yet figured out, so there is more to come.
These ideas from Jans must of course be converted into a design. And that's where Mo comes around the corner. Mo is a graphic designer at it's a mo! design. The look of the shop, lots of products in the shop, the newsletter ..... it is all from Mo! And both are very happy with this cooperation and we hope you too.
Aparte webshop vol gelukspoppetjes
Because the collection full of lucky dolls is so big (we dare to say with confidence that we have the largest collection in the Netherlands), the assortment did not fit under Artasja anymore. So we have set up a separate webshop full of happiness. A webshop where you can go for the ordinary lucky dolls, for nice subscriptions, for wedding favors, custom key chains and the coolest notebooks. Just full of happiness, because that makes us happy. Do you have special wishes, let us know, because this team can realize it.
lot's of luck from Jans en mo.